Ricky Khamis
President Team Growth
Amerifirst Financial, Inc
Phone: 480-359-7908
Fax: (480) 907-1451
License: NMLS173141
ricky@ApprovingAZ.com
www.ApprovingAZ.com
In This Issue

Last Week in Review: Several important reports were released in the second half of the week, including retail sales and wholesale inflation.

Forecast for the Week: Look for a full week of economic reports, with news on inflation, housing, manufacturing and more.

View: You can have something in common with Joe Girard, recognized as the world's greatest salesman by Guinness Book of World Records, if you do the below.
Last Week in Review


"If we had not winter, the spring would not be so pleasant." Poet Anne Bradstreet's words may ring true for the seasons, but less so for some recent economic reports. Read on for the details and what they mean for home loan rates.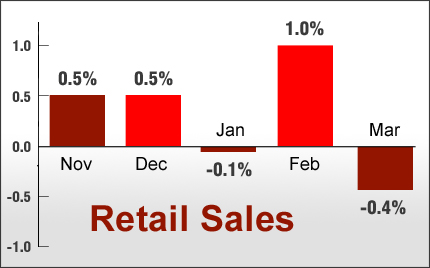 Retail Sales fell by .4 percent in March. This was below expectations and was also the largest decline in nine months. The rise in payroll taxes, which began in January, is likely a big part of the decline in spending. The report shows we may just see another economic malaise this spring, like we have seen the last couple of years.

Further evidence of this can be seen by the fact that the first read on Consumer Sentiment in April fell to 72.3, the lowest level since July. In addition, the National Federation of Independent Business reported that its business survey index fell to 89.5 from 90.8 in March, suggesting that the jobs market is somewhat deteriorating. In addition, the survey found that business owners are growing more pessimistic on the economy. The survey has not shown an upbeat report in five years.

In other important news to note, inflation at the wholesale level remains tame as the Producer Price Index dropped to its lowest point in ten months. Also, the minutes from the Fed's latest meeting were released and they noted that there has been a solid improvement in the labor markets-but this was before March's worse than expected Jobs Report.

What does all of this mean for home loan rates? Remember that weak economic news often causes investors to move their money out of Stocks and into safer investments like Bonds. This includes Mortgage Bonds, to which home loan rates are tied. Last week's poor economic reports, combined with continued uncertainty in Europe and tame inflation news, benefitted Bonds and home loan rates in the second half of the week.

The bottom line is that now is a great time to consider a home purchase or refinance, as home loan rates remain near historic lows. Let me know if I can answer any questions at all for you or your clients.
Forecast for the Week


The economic calendar heats up this week with important inflation, housing, and manufacturing news.
We kick off the week with manufacturing news via the Empire State Index on Monday, followed by the Philadelphia Fed Index on Thursday.
Tuesday we'll get a read on inflation at the consumer level with the Consumer Price Index.
Also on Tuesday, look for news on the housing market with Housing Starts and Building Permits.
On Wednesday, we'll get a look at economic activity across the nation with the Fed's Beige Book.
As usual on Thursday, Weekly Initial Jobless Claims will be released.
In addition, earnings season continues with important reports from Coca Cola, Goldman Sachs, Google, GE and more.

Remember: Weak economic news normally causes money to flow out of Stocks and into Bonds, helping Bonds and home loan rates improve, while strong economic news normally has the opposite result. The chart below shows Mortgage Backed Securities (MBS), which are the type of Bond that home loan rates are based on.



When you see these Bond prices moving higher, it means home loan rates are improving – and when they are moving lower, home loan rates are getting worse.



To go one step further – a red "candle" means that MBS worsened during the day, while a green "candle" means MBS improved during the day. Depending on how dramatic the changes were on any given day, this can cause rate changes throughout the day, as well as on the rate sheets we start with each morning.

As you can see in the chart below, Bonds and home loan rates are hovering near record best levels. I'll continue to monitor this closely.


Chart: Fannie Mae 3.0% Mortgage Bond (Friday Apr 12, 2013)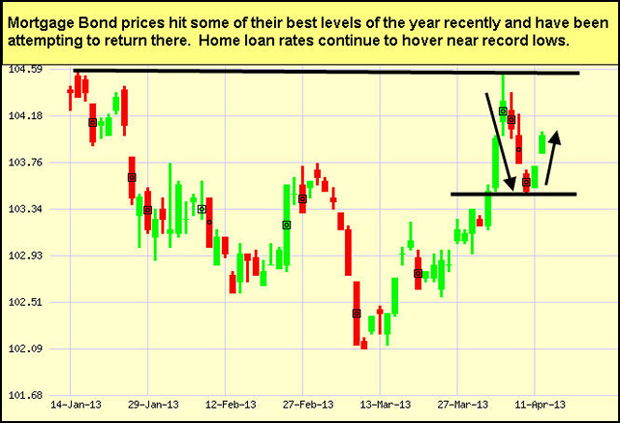 The Mortgage Market Guide View...


The Art of Handwritten Notes

According to a report by the U.S. Postal Service, the average household went from receiving a personal letter once every two weeks in 1987 to once every seven weeks by 2010. It's no surprise that number dwindles ever lower given that we live in the age of instant messaging, tweets, and email.

But there is a bright side. Handwritten notes now have much more value and impact than at any other time in history. They're the perfect way to show clients and referral partners how much you value them.

Here's a six-point formula suggested by etiquette experts. It is not necessary to write more than one sentence per point.
Greeting. Simple: Dear Name.
Express your gratitude. Thank you for trusting me with the financing for your new home.
Make mention. One of the best parts of my job is seeing my clients find a home they love.
Allude to the future. I wish you many years of happiness there.
Repeat your gratitude. Not word for word, a short "Thanks again" will suffice.
Salutation. End with regards such as "Sincerely" and sign your name.
Joe Girard, recognized as the world's greatest salesman by Guinness Book of World Records, sent a handwritten message to all his clients each month with a simple message such as "I like you" and "Thank you" written inside. He credited much of his repeat business to these notes.

Please feel free to pass this along to any clients and colleagues who might benefit from these tips.


Economic Calendar for the Week of April 15 - April 19
| | | | | | | | |
| --- | --- | --- | --- | --- | --- | --- | --- |
| Date | ET | Economic Report | For | Estimate | Actual | Prior | Impact |
| Mon. April 15 | 08:30 | Empire State Index | Apr | NA | | 9.2 | Moderate |
| Tue. April 16 | 08:30 | Consumer Price Index (CPI) | Mar | NA | | 0.7% | HIGH |
| Tue. April 16 | 08:30 | Core Consumer Price Index (CPI) | Mar | NA | | 0.2% | HIGH |
| Tue. April 16 | 08:30 | Housing Starts | Mar | NA | | 917K | Moderate |
| Tue. April 16 | 08:30 | Building Permits | Mar | NA | | 946K | Moderate |
| Tue. April 16 | 09:15 | Capacity Utilization | Mar | NA | | 79.6% | Moderate |
| Tue. April 16 | 09:15 | Industrial Production | Mar | NA | | 0.7% | Moderate |
| Wed. April 17 | 02:00 | Beige Book | Apr | NA | | NA | Moderate |
| Thu. April 18 | 08:30 | Jobless Claims (Initial) | 4/13 | NA | | 346K | Moderate |
| Thu. April 18 | 10:00 | Philadelphia Fed Index | Apr | NA | | 2.0 | HIGH |
 www.BarrierBreakerCoaching.com 
Ricky Khamis
NMLS 173141 | LO-0911814 | CA-DOC173141

Branch Manager | Corporate Office

Arizona and California CE Instructor

Email: 

Rick@amerifirst.us480-344-1900

 office

602-758-7425 mobile

480-339-1615 fax

AMERIFIRST FINANCIAL, INC.
NMLS 145368 
1550 E. McKellips Rd, Suite 117
Mesa, AZ 85203
480-344-1900
1-866-276-12974
BK0013635
Amerifirst Financial Disclosure-  The opinions expressed here are the personal opinions of Ricky Khamis.  Content published here is not read or approved by Amerifirst Financial before it is posted and does not necessarily  represent the views and opinions of Amerifirst Financial.